At the age of four, he felt that the first electric guitar solo he heard in his life is the sound of freedom and exaltation inside him. He formed Turkey's first jazz-rock fusion band: "Atmosfer". The band performed at numerous concerts and festivals.
Mustafa Dönmez thereafter gave many concerts in cities of Europe, such as Vienna and Paris. He staged improvisational performances with a variety of musicians. He carried out6 an original work in connections between Abstract Art and Abstract Music and worked on the use of Turkish music makams in modern jazz.
In 2005, he reformed the band he had founded, Atmosfer, with a new line-up. In 2006 and 2007, Atmosfer gave a large number of concerts at several venues and jazz clubs in Istanbul.

With the line-up he formed,STORY OF THE TREES (Agaclarin Oykusu) was released on A.K Music in December 2007. Again, all compositions and arrangements in this album are written by Mustafa Donmez.

Next, his first solo album MYSTERIOUS JOURNEY (Gizemli Yolculuk) was released in December 2009 on A.K Music.

Second solo album, SHORT STORIES (Kisa Oykuler) by Mustafa Donmez is released in February 2013 on his own record label Atmosfer Records that he launched towards the end of 2012. Mustafa Donmez plays all the guitars and instruments on the album

In the meantime, he has been teaching guitar, bass guitar, techniques, harmony and theory for over 20 years.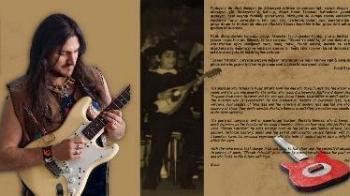 Places where to get Mustafa Donmez and Atmosfer albums:
abstractlogix.com cduniverse.com amazon.com
---
Mustafa Dönmez Project / Interviews
CNN INTERVIEW
NTV INTERVIEW
---
Samples of the MYSTERIOUS JOURNEY album Presentation Concert:
Mysterious Journey
Bougainvillea Garden
Dolphin and the Blue